LIQUIDATIONS/ESTATE AUCTIONS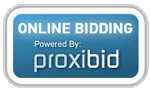 Joe Bradley Auctioneers is now online with Proxybid. Bid online for many different items in our estate sales and liquidations.
Since 1990, we have conducted 100s of liquidations (major business & personal property) throughout San Diego County. We're able to provide both remote and onsite auctions as we have all the nessesary equipment including self contained auction clerking and cashiers trailer.
We offer the following services:
On Site Disposal and Liquidation Services


Extensive Offline & Online Promotion through On-Line Bidding


Complete Management of Your Auction


Temporary storage facilities for end of line stock to be held with other stock to create one large liquidation auction.
Additionally, we can provide a complete state of the art presentation solution. We use an industrial quality projector and present a slide show presentation of the auction. This allows people to sit down, realx and enjoy the auction, rather than walk around following the auctioneer from lot to lot.
For additional information, please contact us.